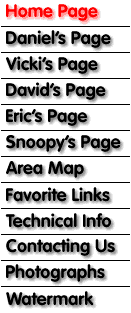 This is the home page of Daniel, Vicki, David, Eric, and Snoopy Kiechle. We live in the South of France in the Valbonne area (between Nice and Cannes, just north of Antibes), so we are a long way from our former home in Huntington on Long Island. The primary purpose of this page is to allow friends and family in the States and elsewhere to get in touch with us (and maybe see the kids or find out what we have been up to).

So far, we have not been able to take and scan as many new pictures as we would have liked. Maintaining a home page requires much more work than we thought! The best incentive is a request; feel free to contact us if there is anything in particular you would like to see.

Thanks for dropping by, have fun, and we hope you'll be back soon.