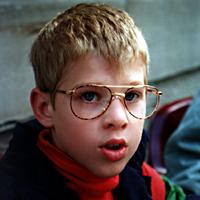 Basel, October 1996
Eric is attending the international section of the "Ecole Primaire Sartoux" in the Park of Sophia Antipolis where he is receiving a bilingual (French/English) education. He has just started the two-year CM1 and CM2 cycle in September. At the end of that, he will, given good enough grades, be eligible to attend the Centre International de Valbonne, the same school that David has been going to for a year now.
Eric likes food, fast food, gourmet food, and his Mom (not necessarily in that order). He doesn't like being bugged by his brother (though, to be honest, he is as much an instigator as a victim in this). Like David, Eric has not made great efforts to add his own content to this page.
Eric was born in 1987 in Huntington, New York.
His birthday is on September 2.