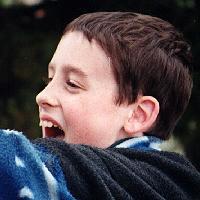 Sainte Agnès, May 1996
Since last September, David is attending the "cinquième" at the Centre International de Valbonne. This corresponds to 7th grade in the United States. At the CIV, David is receiving a bilingual education (French/English) that will eventually lead to an IB (International Baccalaureate) or a BOI (French Baccalaureate with International Option). This, however, is still a few years (six, to be precise) away.
David likes everything that lives in the sea, in particular dolphins, whales, and sharks. He doesn't like homework, writing (if it has to be legible), and being nice to his brother. So far, he has not had time to add his own content to this page, though I am not giving up hope that he will do so one day.
David was born in 1984 in Huntington, New York.
His birthday is on April 29.