Prague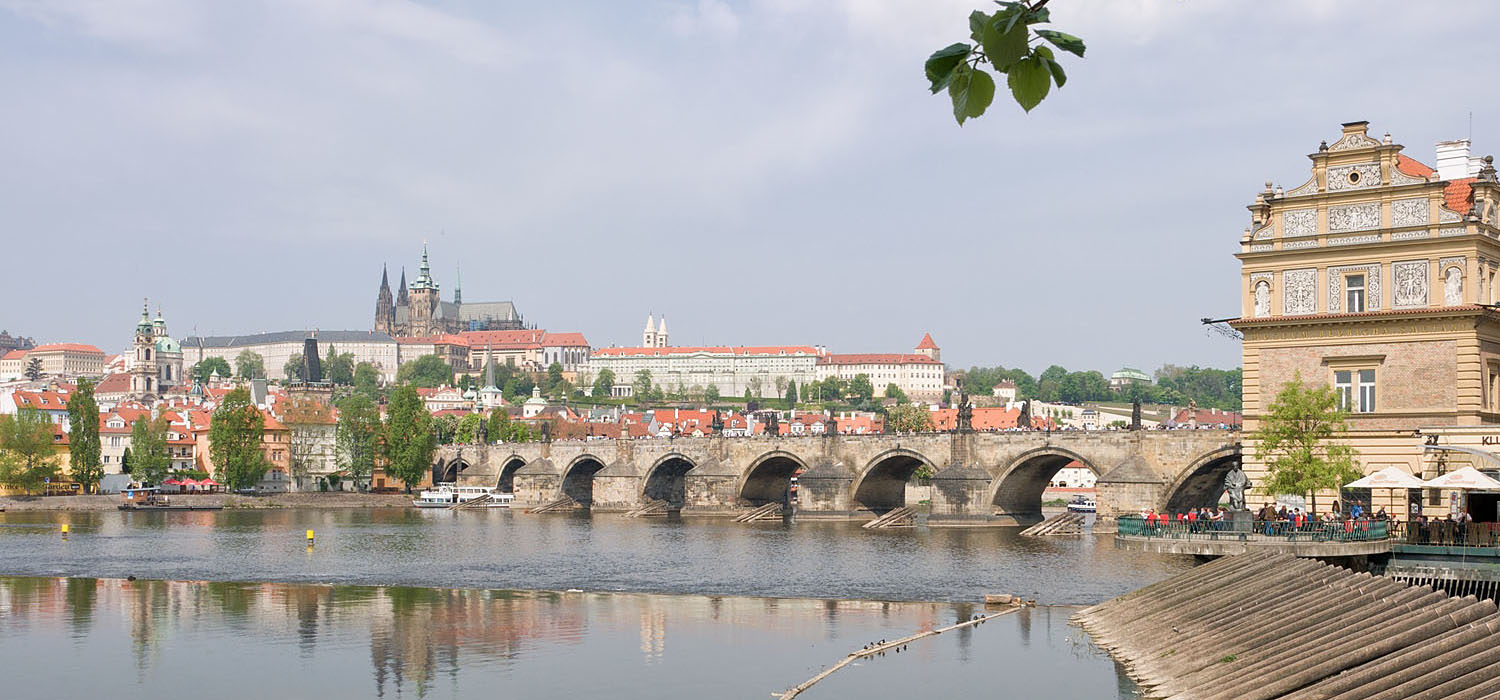 The river Vltava (or Moldau) and the 14th century Charles Bridge
From April 28 through May 1, 2011, we spent a wonderful long weekend in Prague. We had always wanted to go there, and we are sure glad it finally worked out! The city is phenomenal; the only downside is that the whole planet seems to know it. Indeed, there were myriads of tour groups, making sightseeing difficult at times. One way to deal with this is to explore areas which are a bit more out of the way and not conveniently reachable by tour bus (such as Vyšehrad castle). Another trick is to get up very early. At daybreak, one only has to share the city with at most a few fellow photographers who know how to stay out of each other's way.
There is too much to say about Prague! How could one fail to mention that it's awesome to have lunch next to the house Johannes Kepler lived in from 1600 to 1612, or to see a church where Mozart played the organ, or to stroll across a bridge whose construction began more than six and a half centuries ago, or to be moved by the plaque honoring Jan Palach and Jan Zajic, names I remember well: I was 14 when Soviet tanks rolled into Prague in 1968 to put an end to Alexander Dubček's Prague Spring. And there's so much more... It's probably best to simply let the pictures do the talking.
One preliminary remark: the photos have been grouped according to where, not when they were taken. All are posted with full EXIF data embedded, including GPS coordinates, so if you use an on-line EXIF viewer, such as Jeffrey's, displaying any photo and clicking the Exif button will instantly put the spot where the photo was taken on the map for you. It's a pretty neat way to visit Prague!
For now, just have fun and if you haven't been to Prague, plan a visit soon! You won't be sorry.
Click on any image to see a larger (1500 x 1000 pixel) version!
Here's a link for those who want to take a closer look at the Metamorphis Excellent Hotel
These pictures may also bee viewed in a Gallery.
---
Home | Site Info | Family | The Area | Trips | France | Work | Rants | Photography | Odds & Ends
---
This page was last modified on July 25, 2012
Send feedback about this page to feedback@kiechle.com
https://www.kiechle.com/trips/prague/index.htm
(optimized for Retina display)

All contents © 1999-2023 The Kiechles