Christmas in Amsterdam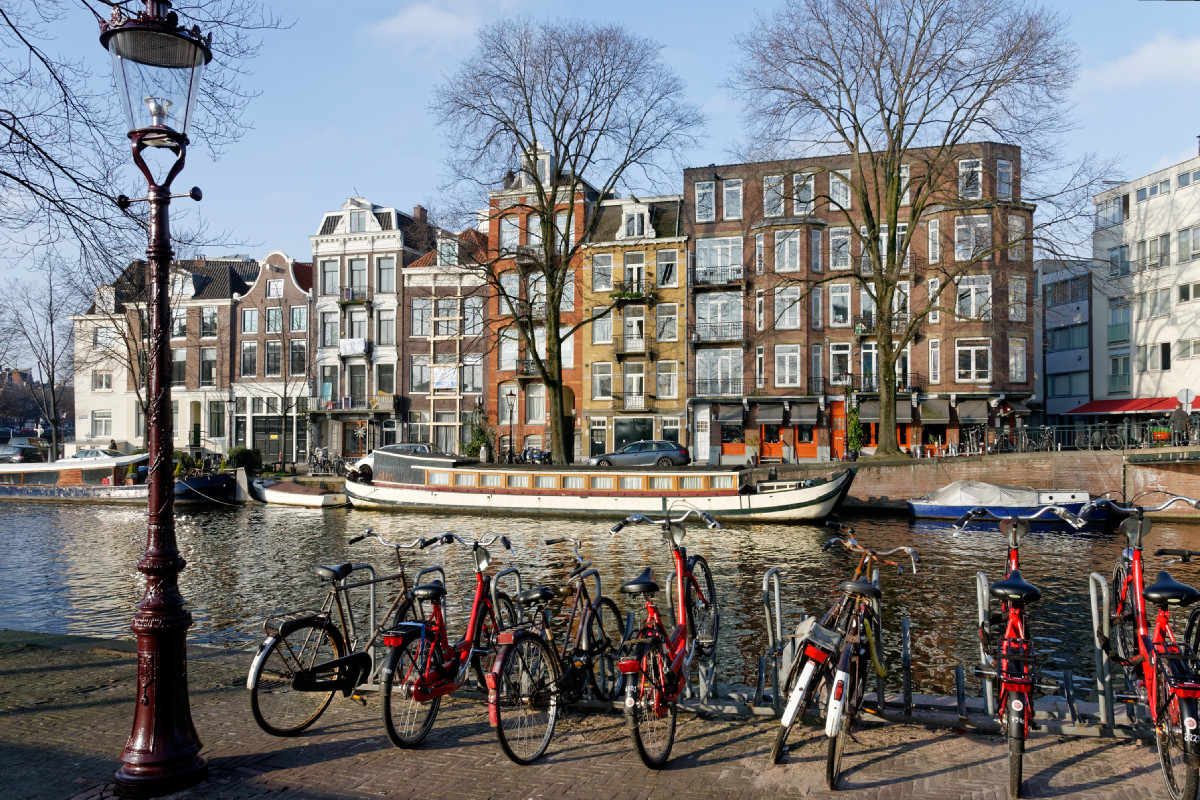 View from the Stadhuis across the canal to Zwanenburgwal
Click on any image to see a larger (1500 x 1000 pixel) version!
As regular visitors of this site know, our family has established a somewhat irregular tradition of spending part of the holiday season in major cities; after New York in 1999, London in 2002, and Rome in 2004, we chose Amsterdam for the 2008 edition of the series. We found a spectacular deal on the truly amazing Grand Hotel Amrâth Amsterdam, located in the historic Scheepvaarthuis, the former head office for the major Dutch shipping companies. We arrived in the evening of Friday, December 26 and began our stay with an Italian dinner and a walk through the city center. We had been warned that we would in all likelihood encounter rain every day; in fact, we didn't get any. Though it was rather cold, we had blue skies and sun during our entire stay. We spent most of Saturday exploring the city on foot, walking along the many beautiful canals, and visiting a large variety of bakeries and pasty shops to warm up. To those interested in tracing our footsteps based on the photos below, we can propose a printable Map of Amsterdam, a scan of the one we received from the hotel.
On Saturday evening, we met our cousin Monique and her two daughters Celina and Stephanie for an early scrumptious dinner at a nice and cozy restaurant where Monique had made reservations. Afterwards, we walked back to our hotel where we had fun taking lots of photos. While the images on this page were taken by both Daniel and David, the following four rows also contain pictures by Celina and Stephanie. We had a wonderful time together; we will definitely try to get together a little more often: the last meeting took place in California more than 18 years ago when Stephanie was just one year old!
On Sunday, we explored more of the city, still on foot. One amazing thing about Amsterdam is how crooked certain houses are, how they either lean forward or to the side. Since the time one could spend outdoors was rather limited because of the cold, we had to look for something to do indoors. We originally wanted to visit the Rembrandthuis, but as it was closed, we opted for the NEMO Science and Technology Center, a truly fascinating place with tons of hands-on activities for kids of all ages -- and their parents! That evening, we chose to have dinner at the hotel restaurant and for once didn't venture outside later.
Monday was the day of the obligatory canal excursion by boat. This is an excellent and reasonably priced way to see Amsterdam and to get some photo opportunities not available any other way. The tour took us from the Amstel through most of the Herengracht and into the harbor. In late afternoon, we took a stroll through De Wallen, Amsterdam's famous red light district. Yes, the prostitutes really present themselves in windows, and we were amazed to see how old some of them were. However, taking pictures of those windows is very much frowned-upon, and we didn't even attempt a sneak shot as it would have seemed unkind to do so.
On Tuesday morning, we had a great breakfast at a place called Kwekkeboom on Reguliersbreestraat 36; we mention this only in the event that you should find yourself in Amsterdam looking for a delicious (though somewhat decadent) breakfast. If so, you cannot go wrong with a cappuccino at Kwekkeboom, accompanied by one of their apple tarts topped with nuts and a couple of Oliebollen with raisins. We also visited the Kalvertoren Shopping Mall on Kalverstraat before making our way back to the hotel where we had left our luggage.
On Tuesday afternoon, we flew back to Nice via Zurich; all too soon, our Amsterdam trip had come to an end. We all like the city and will definitely be back; for now, we are already thinking of where the next installment of the Christmas series might take us.
---
Home | Site Info | Family | The Area | Trips | France | Work | Rants | Photography | Odds & Ends
---
This page was last modified on December 20, 2014
Send feedback about this page to feedback@kiechle.com
https://www.kiechle.com/trips/amsxmas/index.htm
(optimized for Retina display)

All contents © 1999-2023 The Kiechles