Donkey Day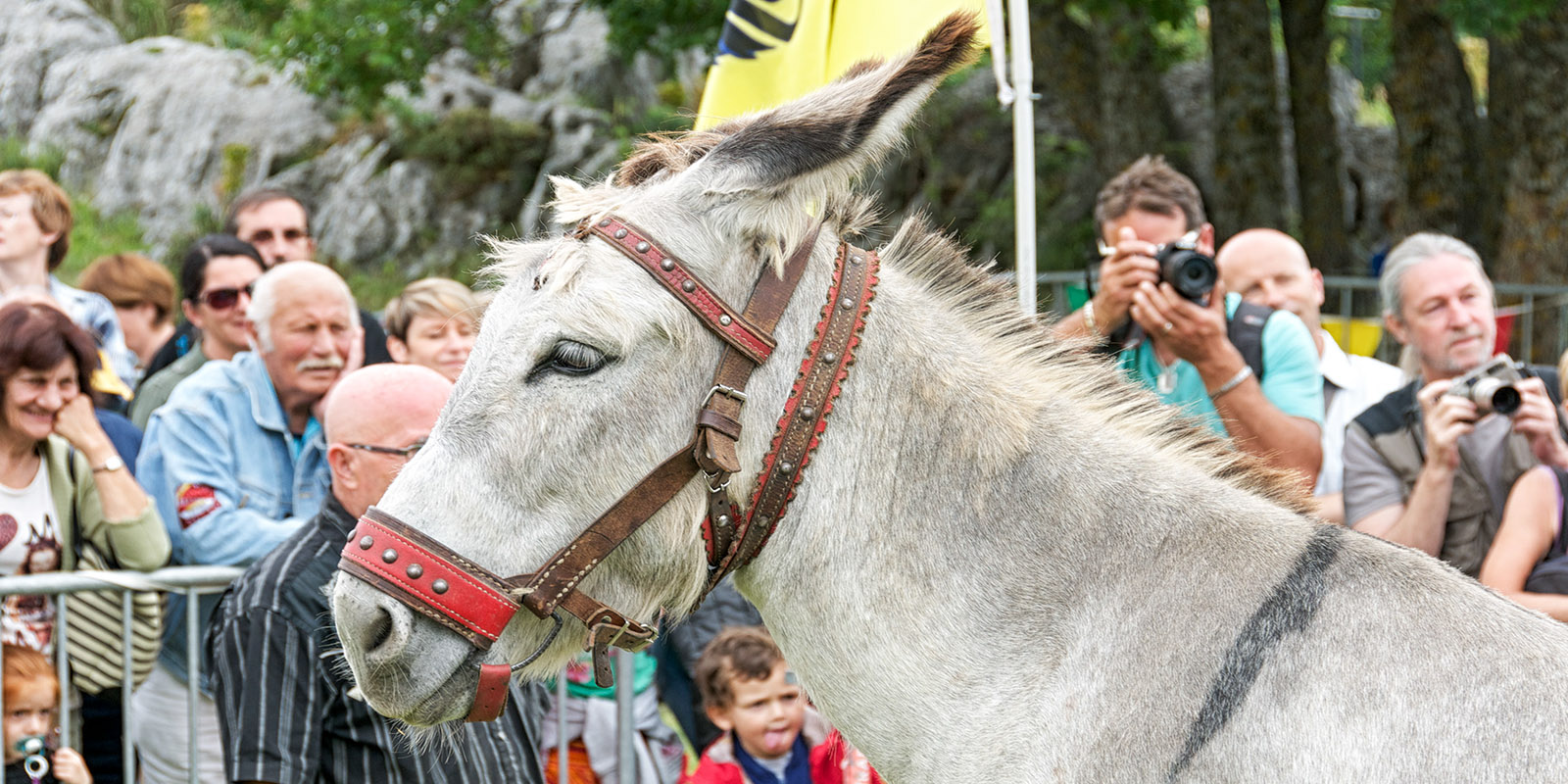 A performer at the 2014 Escragnolles Donkey Festival
On the way from Cannes to work and back, we pass a fairly large walled-in property with a donkey. When we travel by car, he is impossible to see, but from the bus we frequently see Colin, as we have named the animal for reasons that are neither here nor there. One day, as I was sitting on the bus with my colleague Paul, he noticed that I was craning my neck to get a glimpse of Colin. "Oh," he said, "you like donkeys? There is a village in the hinterland where they have an annual donkey festival; you should go." I had quite forgotten about this when a few months later Paul, who never seems to forget anything, sent me an email informing me that the 2014 edition of the Fête aux ânes, the donkey celebration, would take place on Sunday, June 29. Needless to say, we decided to check it out.
The place hosting the yearly event is Escragnolles, a village of roughly 550 inhabitants. It's safe to say that to the villagers, donkey day is absolutely huge, and they go to great lengths to ensure the success of the celebration. Because parking is obviously an issue, they even set up a large parking area in a nearby field and organized a free shuttle service to take visitors to and from the festivities. We had a great time visiting with all the donkeys. All the photos on this page (except Colin's) were taken on June 29, 2014.
Click on any image to see a larger (1500 x 1000 pixel) version!
Donkeys are to horses what cats are to dogs: they have a will of their own, and if a donkey doesn't want to do something, there is absolutely no way to make him do it. All the more impressive that René Grassi, France's most famous (and possibly only) donkey showman, managed to put on quite an entertaining show with what he called his long-eared friends. One of the highlights came when he put a carrot in his mouth and let one of his donkeys bite off more and more of it until literally nothing remained, at which point the donkey stopped trying. According to Mr. Grassi, this is because the donkey would not want to injure him, though I'm not entirely sure that a better explanation doesn't lie in the fact that the donkey stopped because there was nothing left to eat...
Thank you for visiting, and thanks to Paul for reminding us!
---
Home | Site Info | Family | The Area | Trips | France | Work | Rants | Photography | Odds & Ends
---
This page was last modified on July 12, 2014
Send feedback about this page to feedback@kiechle.com
https://www.kiechle.com/oddsends/donkeys/index.htm
(optimized for Retina display)

All contents © 1999-2023 The Kiechles