Beaumes-de-Venise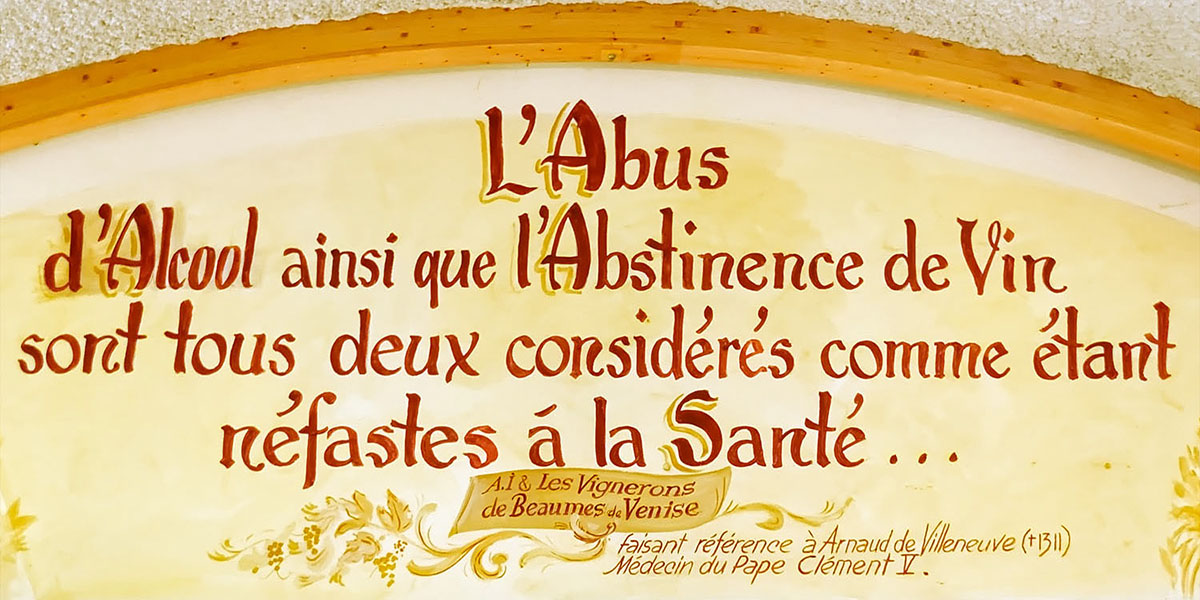 "Excessive consumption of alcohol and total abstinence from wine are both considered to be harmful to one's health."
The above sign, located in the entrance hall of the vintners' co-op of Beaumes-de-Venise, credits the personal physician of Pope Clement V, Arnaud de Villeneuve, with the quote. The author died in 1311, presumably not of a total abstinence from wine. The sign is well placed: the agricultural co-operative of Beaumes-de-Venise is one of the largest producers of wine in the southern part of the Rhône valley. It was founded in 1956 and is owned by over 200 vintners who deliver their grapes to it; the co-op then handles the entire vinification process and returns ready-to-sell bottles of wine to its members or sells the products on their behalf. If one considers that the co-op produces some five million bottles of wine per year and that the vintners grow different varieties of grapes to make different types of wine, one gets an idea of the complexity involved.
On April 21, 2011, my friend Didier and I were given the opportunity to explore this fascinating facility and to photograph a (to us) totally unfamiliar environment. Our guide Stéphane was extremely knowledgeable and contributed largely to making our visit a success. Our tour began in a large hall filled with barrels. There is an eerie beauty about all these wooden casks in which wine is slowly maturing.
Click on any image to see a larger (1500 x 1000 pixel) version!
The cement vinification tanks are located in the basement; they hold from roughly 2,000 to 5,000 gallons of wine each. We thought that was enormous, but our tour was just starting... During vinification, the insides of the tanks get coated with tartar, more specifically with a deposit of impure potassium hydrogen tartrate, a residue of fermentation.
In addition to a bewildering array of various pumps, pipes, filters, and cooling equipment, the basement also holds a few small aluminum tanks. By far the largest tank within the co-op is actually located in a cramped outdoor area: it is a truly gigantic mixing tank that holds 3,700 hectoliters, or about 98,000 gallons! We were told that years ago, one man came to the co-op to assemble the behemoth single-handedly in just a few days. I was unfortunately not able to take a photograph showing the entire tank as it was simply not possible to step back far enough to get the whole thing into the frame. We're talking big here!
We next took a look at the automatic presses. The image of young French ladies hitching up their skirts and stomping on the grapes with their bare feet to extract the juice is definitely a thing of the past, and not only in large operations such as this one. Here, the grapes are delivered to automatic presses by an overhead conveyor belt, and the machines then squeeze every little bit of juice from the fruit. Visually, it is certainly not as appealing, but it is definitely more efficient and, dare I say it, hygienic!
In the aluminum tanks shown below on the right, the vinification process takes up to two weeks. Following that time, the already alcoholic juice is stabilized at a low 6°C (43° F). For this reason, the entire section is kept at a very low temperature, and one definitely feels a chill walking into this area.
The Beaumes-de-Venise co-op produces many different types of wine. On an area of 1,262 hectares (~3,120 acres), some 55,000 hectoliters (~1,450,000 gallons) of wine and Muscat are produced each year. Of these, three quarters are for six different AOC products ("AOC" stands for Appellation d'origine contrôlée, which means that vintners must be located in a precisely defined geographical area and follow very strict rules during the winemaking process in order to label their product with the protected name). The six AOCs and their share of the production are Beaumes-de-Venise (24%), Côte de Ventoux (22%), Muscat de Beaumes-de-Venise (17%), Côte du Rhône (8%), Vacqueyras (3%), and Côte du Rhône Villages (1%). The remaining 25% of the production go into miscellaneous non-AOC table wines.
Perhaps the most famous product made here is the Muscat de Beaumes de Venise AOC that has enjoyed an outstanding reputation for some 2000 years! This is a sweet, lightly fortified dessert wine called a VDN (vin doux naturel or "naturally sweet wine"). The letters "VDN" are clearly visible on the barrels shown below in what had to be the coldest and darkest part of the co-op.
We then entered what Didier poetically called "A Cathedral of Wine." Indeed, moving between rows of these almost 40 ft. tall Italian-made aluminum tanks was strangely reminiscent of walking down the nave of a gothic cathedral. These tanks are so large that the hall they are in was built specifically to accommodate them, and they had to be set up before the roof was added. Each of these fermentation tanks holds over 21,000 gallons of wine. The thin vertical pipes that run down the sides of the tanks enable the circulation of the juice during fermentation.
After spending so much time in a very chilly environment, stepping outside was a shock in terms of both temperature and light. We had to cross a yard where grapes are delivered to the co-op at harvest time to get into the area where the wine is bottled and readied for delivery. As a first step, empty bottles have to be added to the production line. This is accomplished by means of a machine that allows the operator to pick up some 80 bottles at a time. The bottles are lifted pneumatically and gently deposited on the conveyer belt. Note that the bottles are sculpted and feature the "Beaumes-de-Venise" logo.
The Beaumes-de-Venise co-op has 45 permanent employees. Given the output, this is a rather small number, especially considering that it includes sales people and others not immediately involved in the production process. This is made possible by a very high level of automation, but only when such automation does not interfere with the quality of the final product. As our guide Stéphane pointed out, the co-op obtained the ISO 9002 certification in 1996, and was certified ISO 14001 in 2001. Product quality is the foremost consideration when any decisions about processes, procedures, and methodology are made. This is easy to believe when one tastes some of the Beaumes-de-Venise products in the visitor center, as indeed we did.
Didier and I had an extremely interesting visit during which we learned a great deal. Our thanks go to Mr. Claude Chabran, President of the co-operative's Management Committee, for arranging our visit, and of course to our guide Stéphane who generously shared his extensive knowledge with us and patiently answered our many questions.
As mentioned above, there is a visitor center that is open every day of the year except December 25 and January 1; the hours are 8:30 AM to noon and 2 PM to 6 PM in the winter and 8:30 AM to 12:30 PM and 2 PM to 7 PM in the summer. Visitors may taste, and of course purchase, from the extensive product line. For people who happen to find themselves in the area and who appreciate a good wine, the Beaumes-de-Venise cooperative is definitely a mandatory stop. Location and contact information follows:
Cave Balma Vénitia
Vignerons de Beaumes-de-Venise
228 route de Carpentras
Quartier Ravel
84190 Beaumes-de-Venise
France

Phone: +33 490 12 41 00
Fax : +33 490 65 02 05

web: https://www.rhonea.fr (French only)
email : vignerons@beaumes-de-venise.com

GPS: 44.119537° N, 5.014068° E


---
Home | Site Info | Family | The Area | Trips | France | Work | Rants | Photography | Odds & Ends
---
This page was last modified on July 25, 2012
Send feedback about this page to feedback@kiechle.com
https://www.kiechle.com/oddsends/beaumes-de-venise/index.htm
(optimized for Retina display)

All contents © 1999-2023 The Kiechles